Fire

glass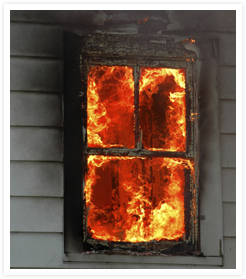 A range of Fire Glass types are available, offering increasing levels of protection. This is measured in defined time periods (30, 60, 90, 120 and 180 minutes) and in terms of Integrity and Insulation or Integrity only as designated by the European Standards.
In terms of Fire Rated glass Integrity and Insulation are defined below:
Integrity - In summary this can be described as 'the ability of a specimen to contain a fire free from collapse, holes, cracks or sustained flaming on the unexposed face for a set time'
Insulation – this is 'the ability of a specimen to restrict the surface measured heat rise to an average of 140°C for a set time'.
We also offer Laminated and Toughened Fire Rated glass as well as Wired glass that has a wire structure inside the glass giving it extra strength and an ability to stay together for longer under extreme heat.
It should be noted that Fire Rated glass must always be specified as part of a tested and approved glazing system, and installation should be carried out by specialists in order to ensure that the expected fire performance is achieved should it be called upon. At Beaumont Rose Glazing we can cater to all Fire Rating requirements and can fit the glass to ensure that it retains its expected fire performance qualities after installation.