Safety

glass

Safety glass is glass used in critical locations on a structure to ensure that the structure both conforms to safety standards and has less potential of harming someone if the glass was to break.

Below is a detailed guide to the installation and requirements of Safety Glass. If you wish to talk to someone directly about Safety Glass requirements then just contact us by clicking here.

How do I comply with Safety Requirements?

What types of Safety Glass are there?
How do I comply with Safety Requirements?
Glass and glazing products must comply with the 'General Safety Requirement' of the General Product Safety Regulations 1994 (GPSR). This requires consumer products to be reasonably safe and this may be achieved by conforming with British Standard BS 6262: Part 4: 1994.
The updated British Standard "BS 6262: Part 4: 1994 Code of Practice for Glazing for Buildings", introduced new requirements that glazing fitted in 'critical locations' in domestic buildings must be safe.
This may be achieved for example by:
Fitting glass that breaks safely
Fitting small panes of ordinary glass
Fitting thicker ordinary glass
Protecting the glass with a permanent robust screen
Where do I need Safety Glass?
The areas of internal and external walls that are considered 'critical locations' in terms of safety are:
1.1 Between the finished floor level and 1500mm above that level in doors, and in side panels which are within 300mm of either edge of the door.
1.2 Between the finished floor level and 800mm above that level in the case of walls, partitions and windows.
1.3 Mirrored doors and panels. It is important to note that any part of a glass area affected must meet the requirements in its entirety and not just in the relevant section.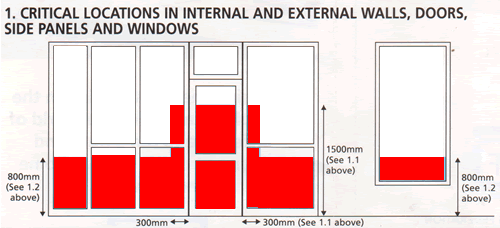 2.1 Safe Breakage
For doors and door side panels, the glazing used should not break, or should break safely in accordance with Class C of the standard impact test BS 6206 (1981) if 900mm wide or less, or Class B if wider than 900mm.
For other low level glazing the pane should comply with at least BS 6206 Class C.
In the critical areas laminated or toughened glass, plastics glazing sheet or wired glass that meet BS 6206 should be used. Glass with plastic film applied so the pane of glass with film meets BS 6206 can also be used.
For unbacked mirror that has been installed so that it is accessible to impact from one side only should comply with BS 6206 Class CO if equal to or less than 900mm wide or Class BO if wider than 900mm.
Unbacked glazing either has no backing behind its entire area, or has a backing which does not retain its integrity or is cracked or broken when tested as described in BS 7449 (1991): Appendix A.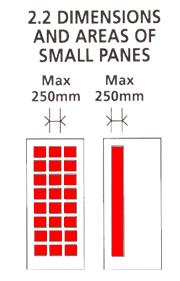 If the mirror glazing is fully backed by a solid material, like a wall or timber wardrobe door and it is securely fixed so that there is space of no more than 25mm between the mirror and the backing material, then a glass which does not comply with BS 6206 may be used.
2.2 Small Panes
Ordinary annealed glass may be used in small panes up to a maximum width of 250mm and an area not exceeding 0.5m. Such glass must not be less than 6mm in thickness, except in the case of traditional leaded lights and copper lights, where 4mm can be used.
2.3 Robustness
Robustness refers to the strength of the glazing making up the 'fronts' to non-domestic buildings such as shops, showrooms, offices, factories and public buildings.
Some glazing, such as polycarbonate, is inherently strong.
Annealed glass, that does not normally comply with BS 6206, can gain robustness with increased thickness. Annealed glass may only be used in critical locations, therefore, when the nominal thickness and dimensions are in compliance with safety regulations. These necessary thickness and dimensions are listed in the table below:
| | |
| --- | --- |
| Nominal Thickness (mm) | Max Pane Size Dimensions (mm) |
| 8 | 1100 x 1100 |
| 10 | 2250 x 2250 |
| 12 | BS 6262 pt 4 |
| 15 or Thicker | No Limits |
2.4 Permanent Screen Protection
If the glazing is installed behind a permanent robust screen, it need not itself comply with any other safety requirements provided that the protecting screen: (a) would prevent a sphere of 75mm diameter from coming into contact with the glazing, (b) is sufficiently robust to sustain at least a centrally applied force of 1100 Newtons.
N.B. If the protective system is multi-railed, each rail must satisfy this recommendation.
In places where the planned activity generates a special risk, for instance gymnasia or other places for energetic activity, the glazing should comply with at least Class C of BS 6206 where usually it would not have to.
In such situations, a designer or specifier should consider if a higher class is required or if additional safeguards, such as protective rails or screens, or manifestation, are necessary.
For bathing areas including those for baths, showers and swimming pools, or wherever there is a risk of slipping on wet surfaces, safety glazing should comply with Class C of BS 6206.
Where there is a difference of more than 0.5m between the levels on either side of the glazing, in addition refer to the separate Code of Practice for Protective Barriers, BS 6180.The use of BS 6180 is not limited to bathing areas.
There are circumstances in non-domestic buildings where large, uninterrupted areas of transparent glazing form, or are part of, the internal or external walls and doors of shops, showrooms, offices, factories and public buildings. In these circumstances, to prevent collision, it is necessary for the glazing to incorporate features which make it apparent.
This can be achieved by:
The presence of mullions, transoms, substantial door frames, stall risers or large push and pull door handles.
Permanent and substantial manifestation by indicators such as broken or solid lines, patterns or company logos, positioned between 600mm and 1500mm above floor level at appropriate horizontal intervals.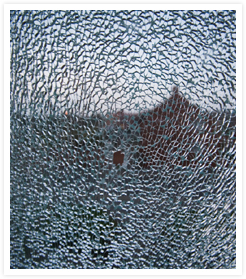 Toughened or Tempered glass categorised as Class A
Toughened or Tempered glass is a type of safety glass that has increased strength and will usually shatter into small, square pieces when broken rather than shards and is therefore less likely to cause injury. It is used when strength, thermal resistance and safety are important considerations. In commercial structures it is used in unframed assemblies such as frameless doors, structurally loaded applications and any other application that would become dangerous in the event of human impact.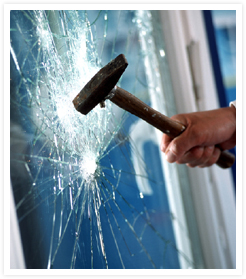 Laminated Glass available in Class A, B or C
Laminated glass is a type of safety glass that holds together when shattered. In the event of breakage, it is held in place by an interlayer that keeps the layers of glass bonded even when broken. Its high strength prevents the glass from breaking up into large sharp pieces. Laminated glass is normally used when there is a possibility of human impact or where the glass could fall if shattered. Skylight glazing is a prominent example of this.
Wired Glass (also called Pyroshield safety clear/textured) categorised as Class C
Wired Glass has a network/mesh of wires embedded in it. Certain types of wired glass can satisfy the impact requirements for safety glass while giving a level of fire resistance. click here for more information on Fire Resistant Glass.